By Clifton Hanger for McColl Center
Now more than ever, the creative spirit requires a haven.
That's why we're excited to announce eight Charlotte-area artists as inaugural tenants of our new Artist Studios at McColl Center, located on the third floor of our iconic building on North Tryon Street in Uptown Charlotte.
The studio artists are:
Artist Studios at McColl Center are generously supported by Windgate Foundation and Chandra and Jimmie Johnson, and also include access to communal labs for printmaking, 3-D printing and laser cutting, digital media, ceramics, woodworking, and sculpture fabrication.
The Studios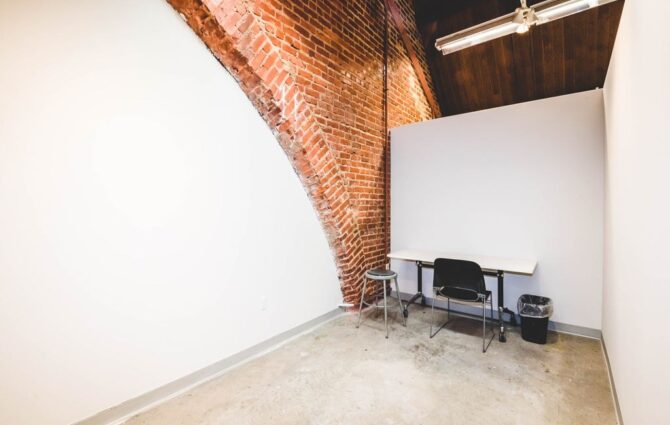 Partnership between McColl Center and Charlotte Is Creative
Studio artist Eboné M. Lockett's space is made possible through a partnership between Charlotte Is Creative and McColl Center for the former's HUG (Helpful Unfettered Gift) micro-grant recipients.
"Finding new, easy-to-deploy methods of supporting working creatives is exactly why we established our HUG micro-grant program," said Tim Miner, co-founder of Charlotte Is Creative.
"Through their new studios, McColl Center has addressed the immediate need for affordable workspace for creatives. And they've also established a communal atmosphere where creatives can share knowledge and best practices with one another, as well as physical resources."
Through this partnership, one HUG recipient working in Charlotte is selected for a four-month studio term. McColl Center and Charlotte Is Creative cover all fees for the four-month tenure.
Artists first
McColl Center is committed to artists with 360 degrees of support, from professional development to modern equipment and resources.
We asked artists what they needed from us, their peers, and the community at large. We listened and realigned our strategic direction to continue putting artists first.
"Having a studio space is critical to an artist, and access to equipment can be a game-changer," added Jonell Logan, McColl Center's Creative Director. "We are excited to provide both to local artists."
Communal Labs
Floorplan
Here's what we've done:
Renovated our gallery and communal spaces.
Added more artist studios.
Acquired and upgraded art-making equipment and tools.
Increased access to creative resources.
Launched a professional development program.
Here's what artists will do at McColl Center:
Build, nurture, and sustain their careers and community.
Engage, interact, and collaborate with each other and with art lovers.
McColl Center is where artists and people who care about them converge and connect. We are open—come and visit.
---
Together, we provide artists resources, tools, space, and time to make an impact on their future—and on our community. The need for art reaches far and wide. For everyone from students who find meaning in self-expression to those who make art part of their livelihoods, at McColl Center, they'll find camps to build artistic skills for a bright future and workshops to develop the business side of their artistic profession. Supporting McColl Center means supporting the community all around us, one gift at a time. Will you support our matching challenge and help us Ignite Momentum this summer? Give now.